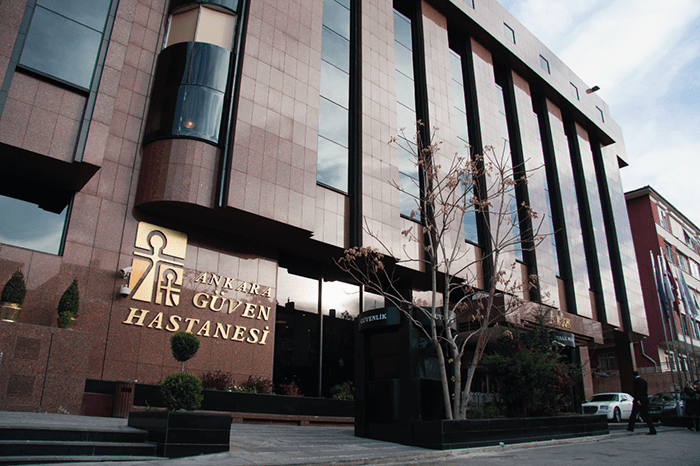 OUR HISTORY
Aiming to provide medical services at international standards, Ankara Güven Hospital, established in 1973, presents a harmony requirements of modern medicine as well as years of experience.
High-quality services that we provide in all aspects increase the number of our patients and demands, and therefore our responsibility that we carry for our patient increases. Our story, which began as a small hospital in 1973, has reached a large general hospital concept with our 1600 personnel consisting of specialist physicians, nurses and auxiliary healthcare staff, 254 beds, 12 operating theatres in 40.000 square meter area. The pride of achievements motivates us to go further on and raise the bar for the future.
We carry on our path as we always keep in mind that our priority is the TRUST that our patients feel…
OUR VISION
We provide the highest quality healthcare services affectionately and meticulously with respect for human dignity, with passion for perfection while adding value to our work day after day; we aim to create a TURKISH BRAND
To spring the mind first and say the last word when providing healthcare services in Turkey and in nearby countries…
OUR MISSION
In the countries where we operate
Starting from prenatal care, until the last moment of life
In sickness and in health
In the light of modern medical practices
With personalized and holistic approach
In accordance with Güven Values
By using the pioneer the information technologies
With participative management approach
We make the protection and treatment of physical and mental health Perfect and Sustainable
OUR VALUES
We Bring the Outcomes with Devoutness and Determination
We Work With Devotion
We Invest In Development for Change
We make a difference based on human values
ACCREDITATION
Güven hospital has been accredited four times by JCI (Joint Commission International), first in 2008, next in 2011, 2014 and then in 2017, which aims to determine, implement and maintain terms that aim to increase patient safety and service quality as well as to create a safe environment for the patients and minimize the risks for the patient and the healthcare personnel.
The Accreditation of JCI is accepted as an international quality evaluation and management organization. The Accreditation of JCI aims to provide safety and quality culture in healthcare facilities and to continuously improve healthcare services and results.
HUMAN-ORIENTED CARE
The Human-Oriented Care is a system consisting of criteria that are designed to contribute to meet many humanitarian needs, which are not clinical but promote the healing process of the patients under supervision of clinically well-trained physicians as well as the happiness of the employees.
Criteria of Human-Oriented Care
It consists of the elements that embrace the patients and their relatives
Attach importance to human values along with technology
Ensure the patients' active participation to ongoing treatments
Has the flexibility to personalize the care of the each patient
Ensure that the caregivers are responsive to the patients
Contribute to the institution, personnel and clinical processes.
The studies conducted in the U.S.A. demonstrated that the healthcare institutions which have been accredited by Planetree after meeting a majority of total 26 criteria are 9% better in satisfaction rates and more frequently recommended and 2% better in discharge rates.
Our healthcare group made an agreement with Planetree in the beginning of 2018 and started its "Human-Oriented Care" journey. Planetree has been in service for 40 years in the United States of America; it inspects 148 healthcare institutions that implement the "Human-Oriented Care" criteria and continues its accreditation activities.
Our Health Group which has already adopted the quality approach and applies it in every process aims to meet the Planetree criteria, be accredited at the end of 2020 and take our place among 148 worldwide respected institutions. Our institution has the leadership, team spirit, qualified personnel and faith which are necessary for this aim. Because, we are a family…