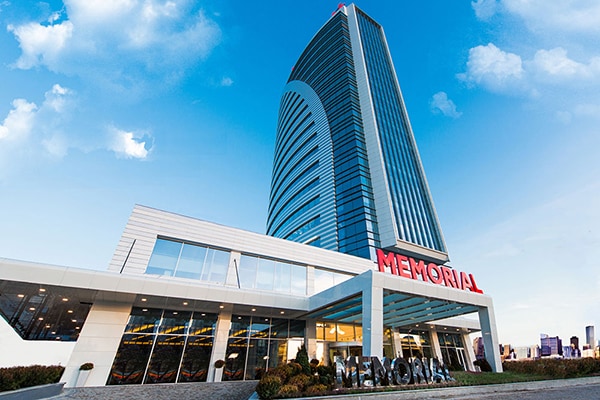 Memorial Healthcare Group, shaping Turkish healthcare industry, a reference center in the international arena with its scientific and medical achievements, is now in the Capital City…
Memorial Ankara Hospital serves as the healthcare base of the region with its  departments that become prominent in the world as a reference center, its academic faculty that is comprised of specialist physicians, its patient-oriented service approach, its diagnosis and treatment facilities with the most advanced medical technology in Turkey, its modern architecture and brand new healthcare approach.
A global hospital combining science and technology
The heart of Turkey now pounds in Ankara thanks to the 10th hospital of Memorial Group, a pioneer of the "firsts" of in healthcare.
One of the biggest private hospitals in the capital with its 42,000 square meters of closed area, Memorial Ankara Hospital also becomes prominent with its superior technological infrastructure.
With its 230 bed capacity, of which 60 are in intensive care units; MR and CT rooms designed with "Ambience technology" to provide comfort to the patients during scanning, world-class Coronary Intensive Care, General Intensive Care, CVS Intensive Care and Neonatal Intensive Care units, Digital Coronary Angiography room, Angiography service, full-fledged 11 operating rooms and 63 polyclinics, Memorial Ankara is designed as a world-class hospital. LED lamps used in the operating rooms that comply with the international standards, and where latest sterilization techniques are used, bring more comfort for the patient and operator thanks to their features such as adjustment of light color according to the characteristics of the operation and prevention of heat radiation.
Patients are much less exposed to radiation during operation thanks to the 256-sliced Computerized Tomography (CT) device. State-of-the-art MR device with a diameter of 70 cm, which is wider than the standard MR device, provides great comfort especially for the patients with claustrophobia. Memorial Ankara Hospital also has an MR-compliant anesthetic device.
Memorial's globally known departments come to Ankara
Memorial Ankara Hospital will provide services on all branches with a multidisciplinary approach starting with Memorial's globally known departments such as Cardiovascular Surgery, Invasive Cardiology, Medical Oncology and Orthopedics. In Vitro Fertilization, Transplantation, Bone Marrow Transplantation and Radiation Oncology departments shall also be put in service soon.
Medical synergy between Memorial hospitals
Emphasizing that Memorial provides important solutions collectively in order to enhance the life quality of patients.Radiological images and laboratory results are digitally stored and transferred to the relevant departments in Memorial Ankara Hospital. Thus, the hospital is able to operate as integrated to other hospitals of Memorial Healthcare Group. Offering the possibility of patient consultation by physicians at different locations over the same image, this system allows that the best diagnosis and treatment possibilities are planned for the patient.
Special designs that provide comfortable spaces of living
Memorial Ankara Hospital does not only offer a quality healthcare service for the patients, it also provides an opportunity to be treated in spaces where special design meets the technology. Many new practices are brought to life especially for the children. Pediatric healthcare center, where any detail for the safety of patients are already considered, provides its services in two separate policlinics, i.e. for sick children and healthy children (booked for checking). This practice on children' healthcare is amongst the important first applications for Ankara and its neighbors.
Besides the patient rooms and suites where any needs and luxuries of the patients and their relatives are considered, Memorial also has rooms for handicapped where all details are designed specially.
Central Location
Memorial Ankara Hospital is placed on an easy-to-reach location on Konya highway. Therefore, patients from Central Anatolia Region, Black Sea Region and patients from abroad may also reach Memorial very easily besides the people of Ankara.